Akira Ifukube comes to shortwave radio!
Yours truly, the webmaster of AKIRAIFUKUBE.ORG and of this blog, will be featured on NHK Radio Japan's English language international shortwave service on Sunday, August 14 (Japan time) and Saturday, August 13 (United States time).
I will be discussing my love and fascination for the music of Akira Ifukube on Radio Japan's
Friends Around the World program
, hosted by Kay Fujimoto and Mick Corliss. Hopefully the hosts will be able to slip in some musical highlights of the composer's work as well!
Hosts of Friends Around the World, Kay Fujimoto and Mick Corliss
I am fortunate to own a shortwave radio...after all, DXing (this means long distance listening in radio enthusiast speak) has been a part of my life since my middle school years. But I realize most people do not own such equipment, and I am happy to say it will still be very easy for you to hear the broadcast by other, more common means.
Radio Japan will beam its signal to North America (via a relay station in Sackville, Canada) at 5:00 UTC (that's 10:00 pm Pacific Standard Time) on 6110 KHz. Assuming you will not be able to hear the shortwave broadcast, you can alternatively "tune in" to Radio Japan's live feed via their website. And if you happen to miss the live broadcast, you will be able to access an archive of the show (available for one week after it first airs) at your convenience.
For more information and to hear past editions of Friends Around the World, please click
here
to visit NHK World's website.
See you on the air!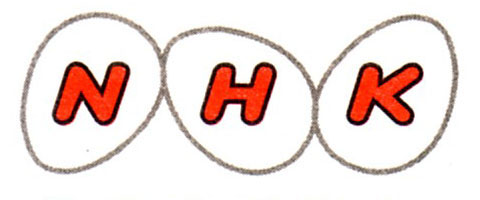 The famous "3-egg" logo of Nihon Hoso Kyokai (NHK), Japan's national public broadcaster